Watch the Titles event L.A. was a blast: photos & reports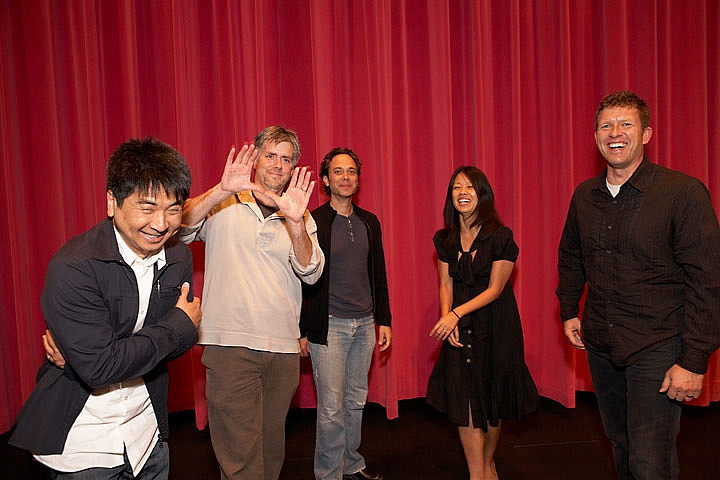 With five superstar title designers presenting together for the first time, we can safely boast that the Flux/Forget the Film, Watch the Titles event at the Hammer Museum in L.A. was nothing short of legendary.
More than 500 people attended. Too many to fit in the beautiful Billy Wilder theater, which seats only 299. Those who were too late to catch a seat watched the presentations on the big screen in Hammer's outdoor courtyard. Not so bad either. And with a cool party to top things off, we can now look back with a big happy smile at a successful event. For those who did not attend, we shot video interviews with Karin Fong, Jamie Caliri and Garson Yu at The Hammer. And we interviewed Kyle Cooper and Danny Yount a couple of days after the event at the Prologue studios in Venice Beach.

Photos from the event by Marla Aufmuth are on Flux's Flickr.
DANNY YOUNT




Danny is a great presenter. You feel like you get to know him a little, as he seamlessly blends professional stories with funny personal anecdotes and old snapshots from his mom, who used to be an avid photographer. His now retired dad spends his days creating super detailed models of famous movie buildings, like the Psycho House. It's a joy just to hear Danny speak about his work. Among other things, he showed some of the artwork, animation experiments, and logo animations he created for his fabulous RocknRolla title sequence.
KARIN FONG




Great to have Karin Fong present at the event – the only designer who, at the time of the event, was not working in L.A., but at Imaginary Forces' New York offices. Karin showed several sketches from the Main Title for Pink Panther 2. She treated the audience to storyboard ideas for funny Pink Panther gags that didn't make it into the final Main Title. And she gave us an exclusive preview of her Main Title for Terminator Salvation, which opened in the U.S. the day after our event. Karin also spoke about the technology that inspired "machine vision," – the special sequences in Terminator Salvation that visualize how cyborgs 'see' the world.
JAMIE CALIRI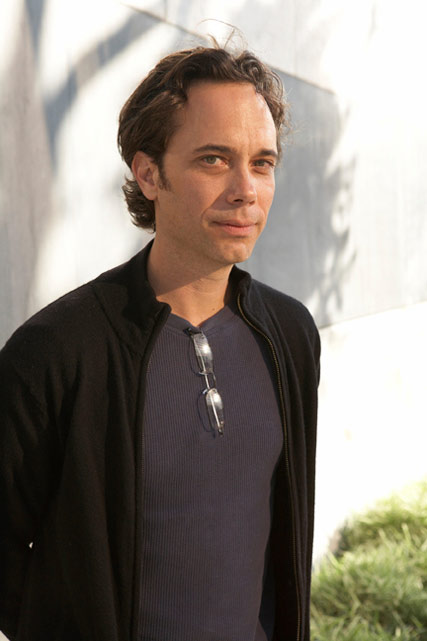 Jamie Caliri showed his Lemony Snicket's title sequence. Not the version we know, but one with the soundtrack he originally animated to. Personally, I liked this version even better. To see this main title on the big screen again made me realize how exceptional it is, in all its multi-layered textural splendor. Caliri – who talked a lot and very fast – also showed a live action short he directed, and a great animated short story, which was screened from a glorious 35mm copy.
GARSON YU




Founder of yU+co, Garson Yu started his presentation by stating that to make the distinction between art and title sequence design is irrelevant. Garson continued with an art history 'lecture', showing still images of historic and contemporary art works by the likes of Albrecht Dürer, van Eyck, Paul Cezanne and Joseph Beuys, which was unexpected, but very refreshing to place title design in the wider context of art. Garson talked about how he draws inspiration from all these great works of art. He showed his main title for Desperate Housewives, which contains references to famous classical paintings. Yu ended with yU+co's Main Title reel.
KYLE COOPER




The last presenter of the evening. And not necessarily because we wanted to save the best for last, but because Cooper had promised to take his little girl to the final live show of American Idol, and would come over straight after the show. Cooper had prepared an amazing interactive presentation specially for this event. This 'matrix', as he called it, visualized the connections between all projects he's ever done and the people he's worked with over the years, and included a wealth of visual material. Brilliant! As Cooper intuitively browsed the matrix, he talked about some of the reappearing themes in his work, such as the use of extreme close-ups. Cooper philosophized quite a bit about his fascination for "God's imperfect universe," a subject that lies at the core of the personal obsessions and themes he's explored in his work throughout the years. He showed Michael Riley's/Imaginary Forces' Gattaca and his simple but super effective Main Title for Wimbledon, adding that "it doesn't always have to be about blood and eyeballs". Stephen O. Frankfurt's sublime Main Title for To Kill A Mockingbird, Cooper explained, served as a great inspiration to his own work.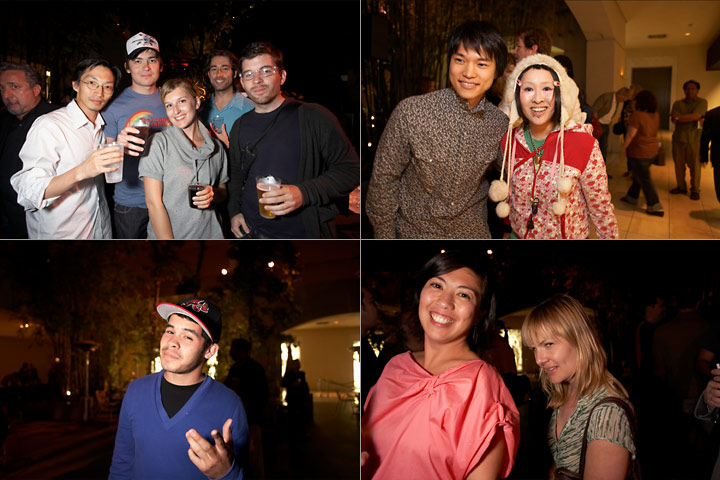 The evening concluded with a party in Hammer's courtyard.
Watch the Titles would like to thank everyone one for making this event happen: first and foremost the designers of course, Jonathan and Megg Wells and everyone else at Flux, The Hammer Museum, and you, the audience.
Jonathan and Meg Wells from Flux with Kyle Cooper and his daughter.
That's us, Watch the Titles editor Remco Vlaanderen with Submarine director Femke Wolting and director Tommy Pallotta.
Reviews
Flux' report, by Courtney Taniguchi
Evil Monito magazine's raving review


Article: Remco Vlaanderen, © Submarine Channel, 24 June 2009. Last update: 9 August 2013.