Watch the Titles screenings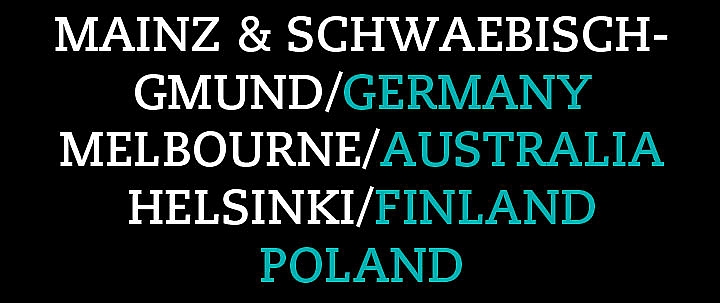 Watching an amazing title sequence on your pc or tv screen is great, but nothing beats the silver screen, right? Thanks to all the designers that collaborated, we were able to curate a one-hour screening program especially for cinemas that showcases a selection of the very best title sequences made between 2005-2011.
Premiere of the program coincided with the release of the first Watch the Titles 2 DVD-set (still available here folks). Subsequently it toured in The Netherlands in 2010-2011. Now we're psyched to announce new screening dates for this summer and fall, with more screenings t.b.a. soon! If you live in any of the following towns or visiting come check us out and say hi. Watch the Titles editor Remco Vlaanderen will introduce the program in Helsinki and Mainz.

UPCOMING SCREENINGS



Schwäbisch Gmünd, Germany
Thurs | 18 October | 6.30 – 8pm
Programmkino "Brazilkino" im KKF, Hirschgässle 7, Schwäbisch Gmünd.
Part of the travelling exhibition Moving Types – Letters in Motion - A retrospective of typography in film from the early days of the cinema to the present. 

Admission: Euro 1
More info: Moving-types.com


Melbourne, Australia
Sat | 10 November | 9.30 pm
Hoyts - Lounge 9, Melbourne Central
Part of the annual Pausefest
tickets: ffwt.eventbrite.com
Pausefest.com.au

PAST SCREENINGS



Mainz, Germany

Sat 11 August | 6 pm | at Capitol Cinema, Neubreunnenstr. 9, Mainz
Part of the finissage of the highly recommended exhibition Moving Types – Letters in Motion - A retrospective of typography in film from the early days of the cinema to the present, at the Gutenberg Museum. 

Admission: Euro 7, Reduced: 6
More info: Moving-types.com



Helsinki, Finland
Sat 21 July 2012 | Pavilion of the World Design Capital, Ullanlinnankatu 2-4
Part of the Dutch E-culture Days @ World Design Capital Helsinki





Lowlands Festival
22 Aug 2010 | Echo at Lowlands (avant premiere)





Playgrounds Festival
Fri 8 Oct 2010 | Playgrounds Festival, Tilburg


Dutch Tour 2010 - 2011
19 Sep, Rialto | Amsterdam (premiere) | 22 Sep, Chassé, Breda | 26 Sep, Images, Groningen | 29 Sep, Cinerama, Rotterdam | 30 Sep, Plaza Futura, Eindhoven | 13 Oct, Focus, Arnhem | 14 Oct, Verkadefabriek, Den Bosch | 22 Oct, Lux, Nijmegen | 23 Oct, Lumière, Maastricht | 24 Oct, Filmhuis, Den Haag | 25 Oct, Lumière, Maastricht | 26 Oct, Louis Hartlooper, Utrecht | 30 Oct, Scheltemacomplex, Leiden International Film Festival
About
Representing a wide roster of amazing talent from all over the world, the Watch the Titles screening program includes title sequences from films, TV shows, games and events. From science fiction to horror, from comedy to suspense, each title sequence represents a unique emotion, mood, style or atmosphere. So, fasten your seat-belt for a bumpy ride and, just this once, forget the film and watch the titles! You'll be glad you did!
Title designer

Founded in 2000 by Bruno Felix and Femke Wolting, Submarine Channel creates visually-led projects projects that explore new storytelling possibilities. Projects include motion comics, video games, web documentaries, and transmedia projects. Submarine Channel's editorial projects include the popular Watch the Titles project, the curated music video website 2Pause, and Submarine Channel Profiles - the acclaimed, ongoing series of video interviews with designers, directors and artists on the web.