OFFF Barcelona 2012
designer: UpperFirst and Brosmind • comment
about
the designer
links
comments
show all info
The OFFF Festival's annual opening titles have become somewhat of a landmark event in their own right. Every self-respecting motion designer and fan are looking out for these titles to debut online. It's that big of a deal. It's an even bigger deal to be invited to actually design the OFFF titles. In 2012, the honor went to two creative collectives; Upperfirst from Sweden and local Barcelona-based studio Brosmind. Watch the Titles editor Katy Yudin talked to both studios and penned down their story.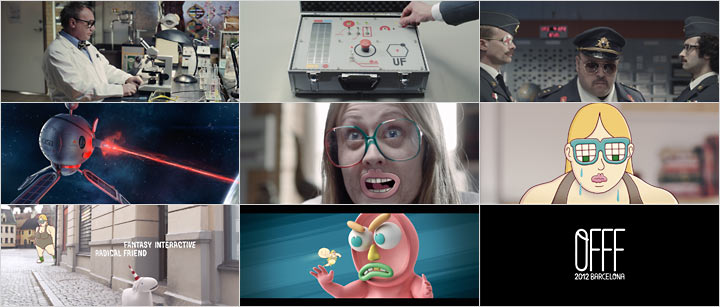 When Hector Ayuso, director of the OFFF Festival, tapped Barcelona-based Brosmind and Sweden's Upperfirst as the design team to develop the OFFF Barcelona 2012 Main Titles (and follow in the great footsteps of previous OFFF titles created by Kyle Cooper, The Mill, and Postpanic (featured at Art of the Title), he must have had some inkling of the potential showcase this collaboration could produce. Though neither had previously created titles, his instincts were beyond right on.

We talked with Juan Mingarro of Brosmind, and Erik Arheden of Upperfirst to find out just what magic sauce it took to produce this entertaining sequence. (Hint* communication, communication, communication!).


STYLE

To kick off the collaboration both teams met to brainstorm at Brosmind' studio in Barcelona, 'a total playground for grown ups.' Since Brosmind had to create a comic which would serve as the main inspiration for the piece that UpperFirst eventually produced, The Mingarro brothers excitedly pitched the idea of SHE, "the first comic with action, drama, and unicorns." (!)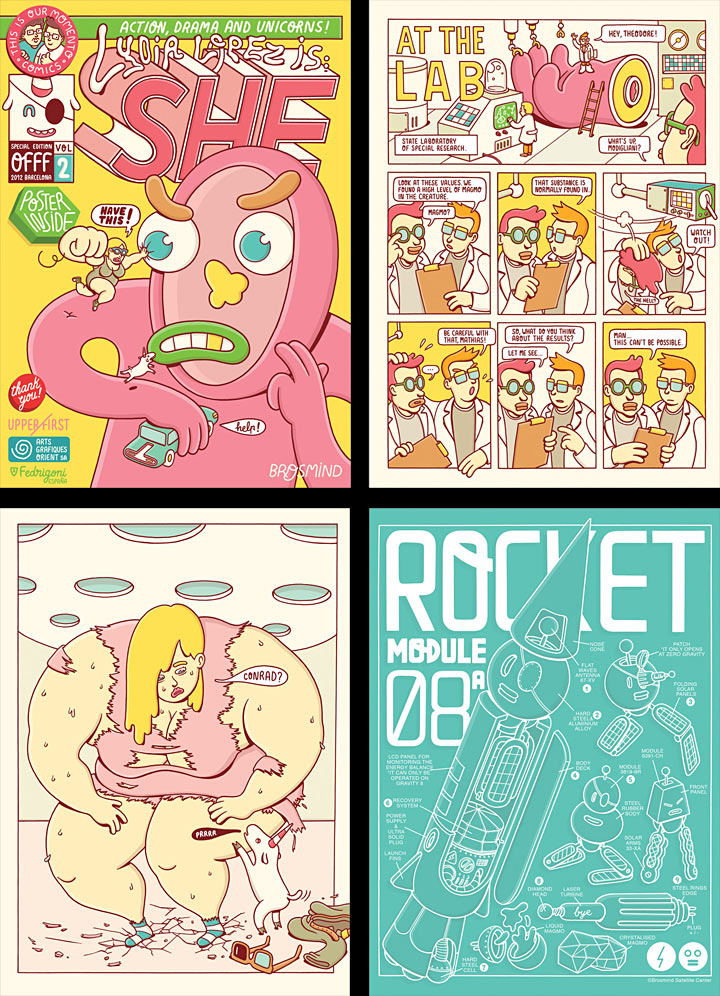 OFFF Barcelona 2012 titles, SHE comic book. More on Brosmind.com

Juan Mingarro explains the story: "Earth's nations developed due to a threat of a huge meteor, and the nations decided to cut the Earth into two fragments so that the meteor could pass through it. Planning the work from the very beginning, they avoid the impact of the meteor. But something fails and the two pieces of Earth never join again and get lost in the universe. The story then takes off with the main character of Lydia Lopez, who obtains amazing powers trying to find a vaccine to stop the use of gravity boots." 

Although they work as a short movie themselves, Juan tells us that these Titles end up being a kind of movie trailer of the story of the comic, showing some of the most important moments.
"When Brosmind shared the different shots of key frames they wanted to use in the comic, Upperfirst fell in love. From that point, each studio developed the work in parallel. Brosmind started creating the two volumes of the 28 pages of the comic, and back in Sweden, UpperFirst developed the script for the movie. The story had to be locked down early as the comic was to be produced parallel to the film. A true collaboration."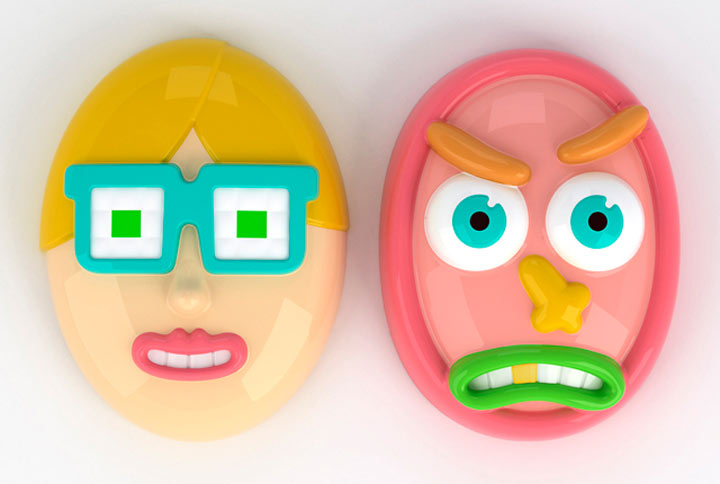 OFFF Barcelona 2012 titles, SHE masks distributed at the conference

Erik shares that "the script shyed away from the regular dark treatments of these types of titles." Instead, the Upperfirst team was inspired by the quirky titles reminiscent of variety shows that were created by Buck for the F5 conference in New York.

Looking at feature references such as Dr. Strangelove, Godzilla, Apollo 13, Baz Luhrmann's Romeo and Juliet, Kill Bill, and anime, early on it became clear they'd have to do a mix of techniques and styles. Nixing an early idea where the dialogue was in English, Upperfirst decided to make it non-sense so that it'd be more obscure and less disruptive to the film, eventually arriving at a comic inspired tone with elements of the optimism of the 1960's space age. The dreamy French music accompanying the intro certainly sets that tone.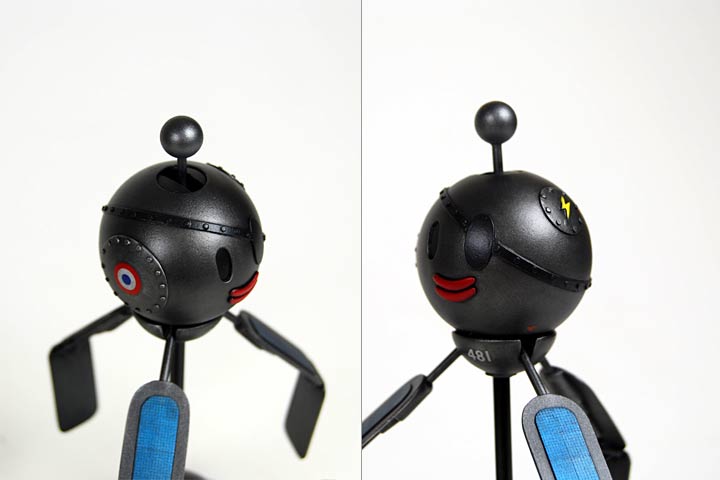 OFFF Barcelona 2012 titles, 3D renders and a (very cute) small scale model of the satellite.

A last note about the comic book. Juan of Brosmind explains that "the first two volumes of SHE were released exclusive for the audience of OFFF Barcelona 2012, and there will be a second edition made for OFFF Mexico 2012. But it will be made available for the general public very soon."
DESIGN PROCESS

Taking their key from the retro feel of the 60s it was an organic process of integrating the illustrative style into real life objects. Upperfirst would often send lists of objects to Brosmind and had them come up with designs of e.g. cars and characters that they then turned into 3D. It was a continual back and forth flow of sketches and ideas, where one idea would emerge out of another.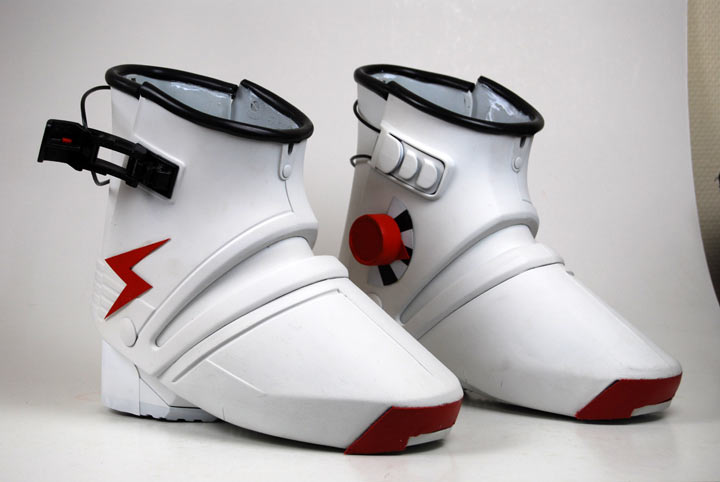 OFFF Barcelona 2012 titles, Props: gravity boots

Since Upperfirst specializes in live-action, motion graphics, 3D and VFX ― and all hands were on deck for this one ― mixing styles was a given. There was no way to do all of it live-action or 3D. That reality formed the story in a way where it would make sense and play to their advantage. That and the fact that it should relate to a comic made the mix both natural and essential"

"Upperfirst had to start with a comic and turn it into a feature, and then take the audience from the live action story to the comic." In the beginning they used iconic imagery to put the audience in a lull, so they would get comfortable and recognize they were being told a story. Then they twisted the whole thing and let comic sensibilities guide the live action to introduce the unexpected, leaving the audience hanging.


THE COMMAND CENTER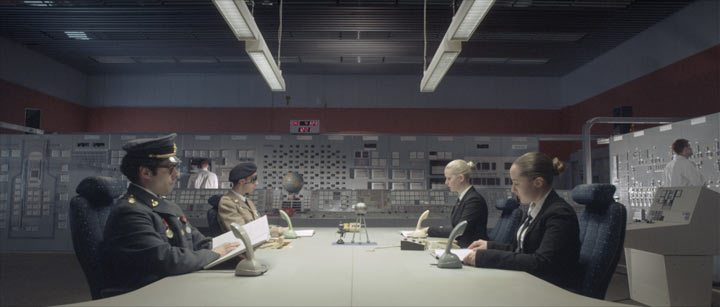 OFFF Barcelona 2012 titles, still

With the constant struggle to get as rich environments as possible while having no money to build or rent, or time to do in 3D, how did they manage to re-create that authentic looking retro command center? Well, they didn't.

One morning Upperfirst got the (we think brilliant!) idea to call the nearby nuclear power plant, who, strangely enough, agreed to let them shoot in one of their rooms. Of course they had to be escorted everywhere they went and all the equipment and crew had to be scanned for radio active particles once the shoot was over.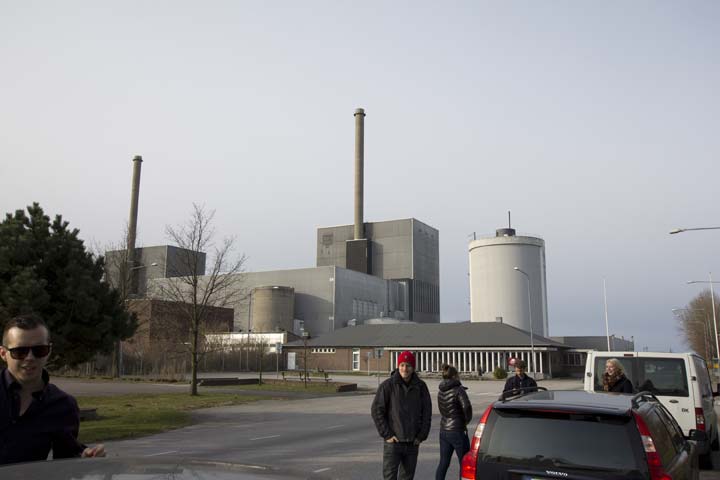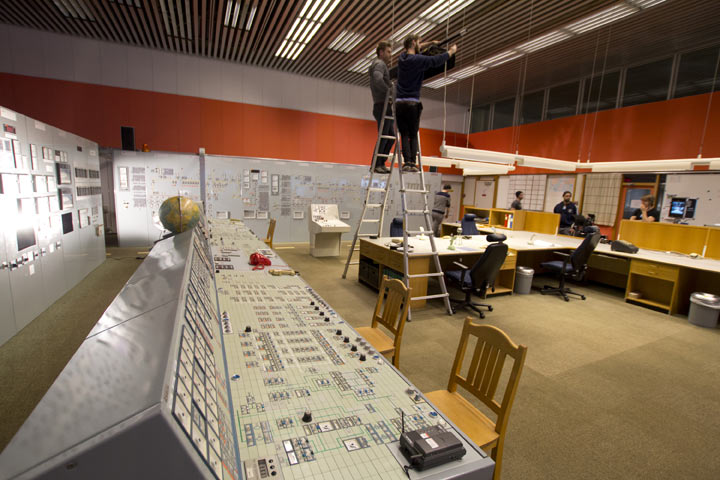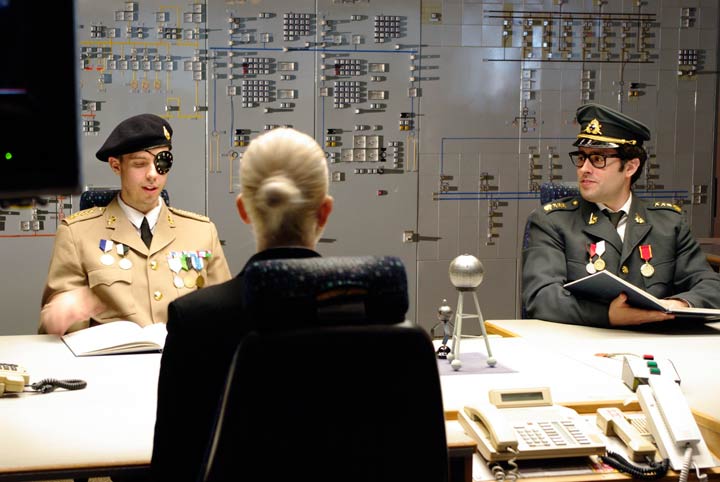 OFFF Barcelona 2012 title shoot in a nuclear power plant, with Alejandro Mingarro as an extra in on the right

Shooting at the plant presented the perfect opportunity for both Brosmind and Upperfirst to take their cues as extras, since they couldn't bring an unlimited amount of people.


TYPE

Brosmind's style was a given. With a love of doing lettering in their own illustrations, Brosmind took charge on showing the names of the 40 speakers attending OFFF and drew all the names that Upperfirst eventually integrated into the titles, as if they were the opening credits of a movie.

For those who want to follow the story of SHE, Brosmind is continuing the story of Lydia Lopez and next issues of SHE are coming soon!




Article: Katy Yudin, © Submarine Channel 8 August 2012. All images used with kind permission.
Title designer

About UpperFirst and Brosmind
Brosmind is a studio based in Barcelona founded by Juan (below, on the right) and Alejandro Mingarro in 2006. Their style is fresh and optimistic and always combines fantasy and humor. The brothers have work for clients such as Nike, Microsoft, Virgin, Gillette, Honda, Land Rover, Volkswagen… but their universe is not fully understood without their personal artistic projects, like Brosmind Army, Brosmind RV and Brosmind City.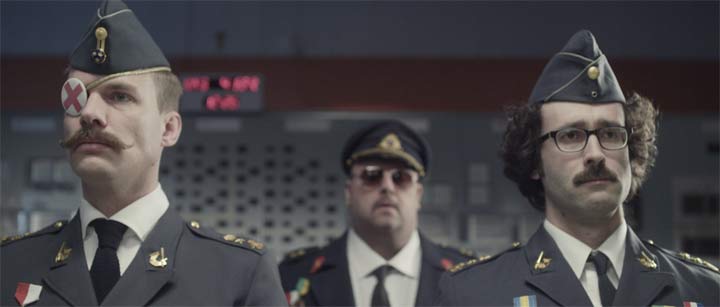 Brosmind.com

UpperFirst is a production collective that works at the intersection of design, film and digital experiences. We are a group of motion designers, directors, producers, 3d and vfx artists that believe in strong ideas with great execution, working hard and having fun. Work is life and life should be fun.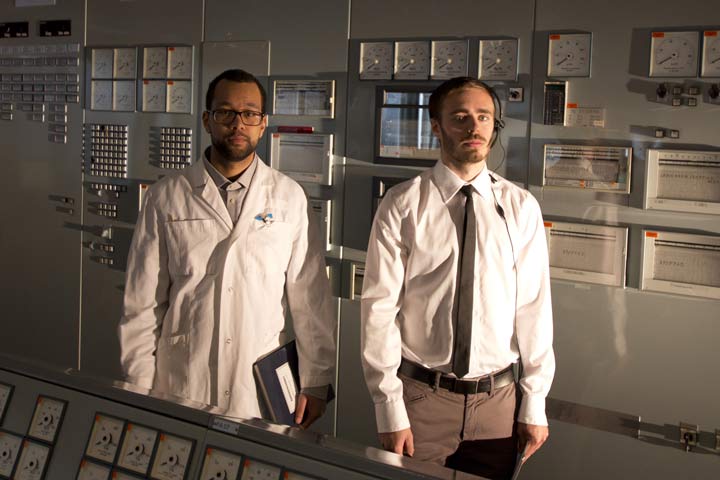 Robin Jakobsson (intern) and Jonas Persson (Compositor/VFX at UpperFirst) "backstage"

upperfirst.com

Full credits
The full credits are at the end of the video