Hostage
designer: Laurent Brett • 1 comment
about
the designer
links
comments
show all info
This dark and atmospheric 3D title sequence announces a dramatic event that will take place in a house in an upscale suburb of Los Angeles.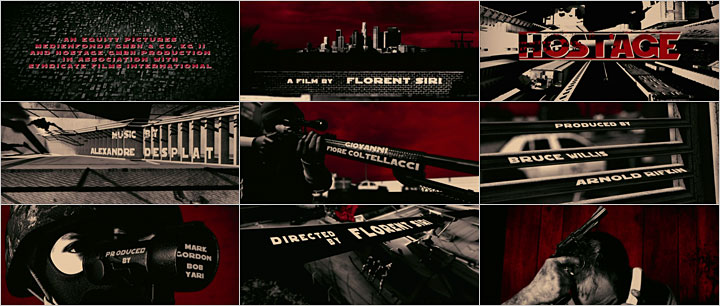 The initial inspiration for the title sequence came from Frank Miller's Sin City comics and the Panic Room title sequence. "I'm a fan of types in perspective!" says title designer Laurent Brett. "The director, Florent Siri, is also French and I'd worked with him before on several music videos and on his previous movie 'The Nest'. Because we're friends, he involved me in this project since the first day. He wanted to make a high pressure sequence in a high contrast black-and-white style. I went to the shoot, took 1500 photos for reference and textures. We then built the set in CG and I made a lot of shots from macro to wide. I wanted to do shots that were impossible to do in real life, but with a realistic look. I edited the sequence with 30 CG shots. All the work was done in France by me, including all the compositing. It was a one year job, between the first and the last day."
Title designer

Laurent Brett is a motion graphic designer from France with a huge passion for creating film titles. Brett spent two years on a general communication school, which sparked an interest in video editing. He gradually rolled into the business of title sequence design mainly from working as a post-production supervisor, editor and motion graphic designer on music videos and commercials in the 1990's. Now, Brett's focus is primarily on designing film and TV titles.

Full credits
Film director
Florent Siri
Title director and lead Compositing
Laurent Brett

Links
Laurent Brett
show website

IMDB
show website