browse by collection

show titles (120)

show titles (11)

show titles (16)

show titles (17)


show videos (18)


French titles '50s-'80s.
show titles (16)
From Form
made by
images
about From Form
show all info
Made by From Form:
Into The Wild (unofficial) (2009)

A History Of The Title Sequence (2011)

OFFF Barcelona 2013 - Mr. Emilton's Cabinet of Curiosities (2013)

About From Form:
From Form is a design studio based in Rotterdam, The Netherlands, founded 2012 by Jurjen Versteeg and Ashley Govers. The studio focuses on (the combination of) film, motion graphics and title design. Projects often combine analogue and digital techniques. Jurjen Versteeg studied Interactive Multimedia and Audiovisual Design at the Willem de Kooning Academy in Rotterdam, The Netherlands. Versteeg met fellow student Ashley Govers, who studied Interior Architecture at the same school. Here they are, posing in their studio's workshop in what will eventually be the set of the OFFF 2013 Main Titles.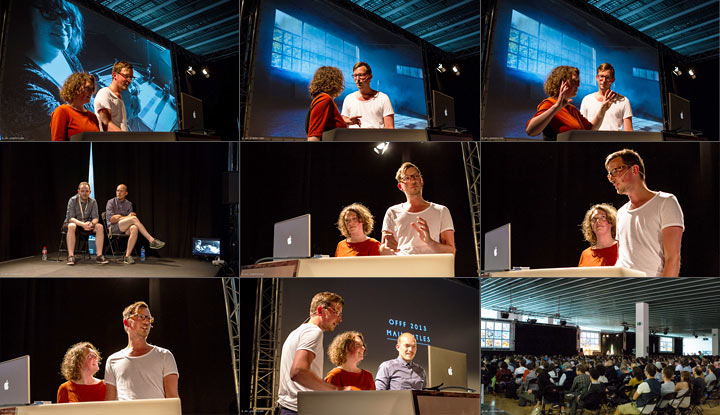 From Form's Ashley Govers and Jurjen Versteeg presenting at OFFF Barcelona 2013, with Wouter Keijzer and Ben Lukas Boysen. Photos by JM-Joseph.com
For a school project, Versteeg created an alternative version of the title sequence for Sean Penn's road movie Into The Wild in 2009, which got him on the radar of motion design blogs worldwide, including Watch the Titles. Title design was also the focus of Versteeg's graduation project in 2011, which culminated in another title sequence. With A History Of The Title Sequence, the Main Title for a fictitious documentary about title design, Versteeg won the 2012 Vimeo Award in the Motion Graphics category, and a trip to New York to pick up the award in person.